Epson and Canon created printers that have multiple grays. We built a digital printing technology comprised of Symphonic Inkjet Ink, Symphonic RIP software, and profiling that will allow you to produce perfectly neutral or tinted grays on those printers. This technology allows you to use one printer with one ink to print the most beautiful, rich color images and the purest black and whites you can from your images while spending less money on ink and materials. The reliance on various light and black tinted inks are simply not needed. Metamorism and bronzing no longer exist.
The below image was printed and photographed by Giles Prett of Crane Paper Company. It was produced with the Symphonic UltraMax II 7-color series with only one light black.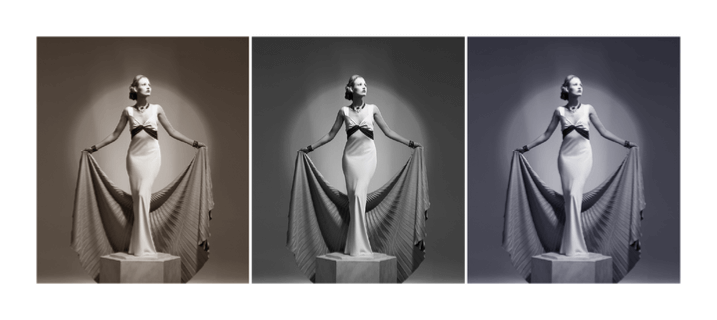 How Black and White Printing Works
When I printed with Black and White darkroom photo papers there were papers like Medalist, Kodabromide, Brovira, Portriga, Velour Black, Oriental, Polycontrast, Multigrade, Ilfobrom, Galerie, and many more. Each one of these papers offered a unique characterization of tonal quality. Today we have a number of digital papers to choose from, but the focus has been on toned carbon black pigment inks. This technology offers some beautiful prints, but limits the tonal possibilities. 
Carbon black pigment is made of particles that either form a gloss or matte surface.  Carbon black, when diluted, forms a brownish color or bronzing effect, and only by tinting the ink with pigment colors can the carbon black have a neutral value. Quadtone blacks are tinted. This ink set offers only specific shades and may have bronzing issues with photo papers.
So I ask, if quadtone inks are tinted with pigment ink, why not let software control the blending to create whatever tone you want, from perfectly neutral to the tone of your choice? The answer may be that there has not been a sophisticated software that can take a black and white RGB image and reproduce it accurately.
Today, however, the Symphonic printing system allows you to create a unique profile that perfectly neutralizes the gray scale, allowing you to tone it in any way you choose. As in quadtone, the profile utilizes mostly black ink and adds a small amount of color to vary the tone. The strong use of our powerful carbon pigment in the scaling preserves the longevity of the image. We recommend the use of our RIP and inks for superior results.